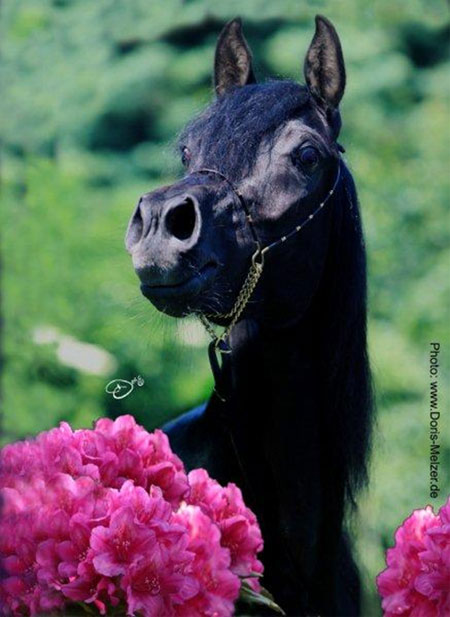 Al Kharim Al Azim*** (Nuri Ibn Salaam x Al Gaschya), exotic, blue black stallion, without white markings, Straight Egyptian, Pyramid Society, Al Khamsa, Blue List, black producer, homozygous (EEaa), Premium Stallion, Gold ribbon, Stallion Book I, Stallion Performance Examination, Endurance Performance Successes with 800 km, always well placed, - SCID-clear, CA-clear (N/N), LFS-clear -, superb offspring in Europe and in Arabic countries, fresh, cooled, and frozen semen of best quality available –worldwide -(sometimes special offers)
And the Legend lives on

Al Kharim Al Azim***, (Nuri Ibn Salaam x Al Gaschya) is in the footsteps of the legendary black stallion Al Azim. Al Kharim Al Azim is the only very typey, Straight Egyptian, blue black, Gold-Ribbon Premium Stallion with a very good Stallion Performance Examination and 800 successful endurance performance kilometers. He got the Gold-Ribbon at the German Stallion Show which is held by the German Arabian Horse Breeding Association (VZAP) and he is listed in the Stallion Book I, which is the best one and he is licensed as a sire for all breed. Al Kharim Al Azim, the beautyful and exotic black stallion is not only Straight Egyptian, Pyramid Society, Blue List, Al Khamsa and Asil, he is also a homozygous (EEaa) black producer, with superb offspring in Europe and in Arabic Countries. Al Kharim Al Azim descended from a black, beautyful and healthy performance-family with best characters and they are not only performing with many successes in endurance sports, they are very good horses for breeding, show or as faithful and lovely family horses as well.

Al Kharim Al Azim is one of the best black Straight Egyptian stallions in the world and he is a breeders dream come true!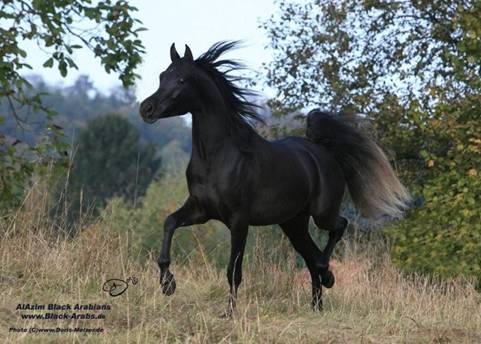 Al Kharim Al Azim is the dream Arabian found in so many books, stories, films and TV serials. From Fury to Black Beauty, from Blitz the Black to Silas, Iltschi and Rih – whatever their breed was, it had been always black stallions that inspired the people. Al Kharim Al Azim is our dream come, he embodies the reality of the dream and he is the Top-Star-Stallion from our 25 years of black pure arabian breeding programm. He has it all – for us he is just perfect - and wherever he appears he is admired by everybody and surrounded by his fans. He attracts not only arabian horselovers with his showy attitude and his presence. For example he was not only choosen as a Black-Beauty for several covers, he was also the Classic Arabian Model for the exclusive and very special horseblankets of Corinna Schumacher (the wife of Formel-1-Star Michael Schumacher) and he was invited for a special entry to the Egyptian Event Europe (BEL).

Al Kharim Al Azim is a classic, true blue black stallion, without any white markings and he has only a very tiny star in the middle of his forehead. He has a beautyful, very typey, dishy head, with big dark eyes, with a broad forehead and small, well-shaped ears. His wonderful, long silky mane flows over his long, elegant, high set and well arched and upright neck. He has a good body and topline and a sloping shoulder and strong, well-angulated hindquarters and his straight and high set tail is always up like the "prophet´s flag". He has very good and correct legs and hoofs and he passes his qualities on to his offspring.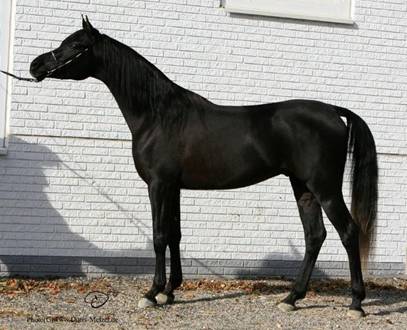 Al Kharim Al Azim´s exellent conformation points as well as his superb character and his extreme good movements, including a ground-covering walk, an elevated trot with enormous power from the hindquarters and the powerful canter, are reflected in his performance achievements. It gives him the ability to carry his rider the whole day long, fast, safe and easy, up hill and down dale. He is just flying without wings.



Al Kharim Al Azim has grown naturally in the herd on hilly pastures and therefore he has a well mannered relationship to other horses. When growing up his best friend was our Elite stallion Al Azim. They shared the pasture, the stable and went out together for riding and he learned so much from him. Both have the same good conformation and character and they have related bloodlines, as for example the Elite stallion Gharib.

Al Kharim Al Azim is in the footsteps of the legendary Al Azim and he is his worthy successor and he is not just like Al Azim, when he was young, he is even better!

Al Kharim Al Azim´s pedigree is one of the finest. On his maternal side, with his granddams Nurah and Ghandurah, he traces back to very good performance lines and to the wellknown sires, the black Elitesire Gharib, born in El Zaraah (EGY) and for many years the main stallion in the German State Stud Marbach and to the legendary Tuhotmos. On the paternal side he traces back to the international attracted Elite stallion Ansata el Salaam, who has two times the Nazeer-Son Ansata Ibn Halima in his pedigree and the beautyful dam Ansata Samantha which traces back to Bukra and Obeya and to the line of El Dahma. In Al Kharim Al Azim´s outstanding Who-is-Who-Pedigree are many more wellknown ancestors like for example his grandfather the Elitestallion Montasar, a Messaoud-fulbrother and the son of the most successful breeding combination of Madkour by Morafic and the Hadban Enzahi-daughter Maymoonah and they have been the foundation of a whole succesful Arabian Horse Dynasty.

Al Kharim Al Azim´s outstanding character, his faithful and lovely charming way, which always like to please, his very good nervs, his brave reaction to everything new, are making him to a friend to go through wind and weather, up hill and down dale and through thick and thin, what ever will be! It is a pleasure to ride him in every difficult terrain and he is not only the favorit stallion of Doris Melzer, he is her favorite riding horse as well, which she would not sell for all the treasures in the world!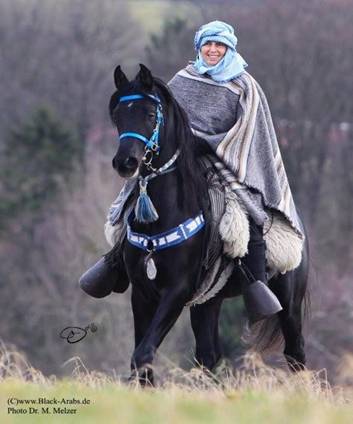 On many endurance competitions, in all weathers, in many various landscapes, with all different cross-country difficulties, on many events, with many different veterinarians, the still young Al Kharim Al Azim proofed since three years in succession, his health, his toughness, his stamina, his performance ability and his will to perform.

For example Al Kharim Al Azim competed in a heat of 32 degrees in the highlands of Hessen and he carried his rider through the deep valleys and over the windy hills of the Eifel, he cantered on tracks with sometimes stony and with sometimes deep sands in Baden-Württemberg and he was trotting happy in cold drizzle over the hills of Rhineland-Palatinate. He had a very good Stallion-Performance-Examination and he finished already 800 successful endurance competition kilometers, always well placed, with for example a 2nd place on a difficult 62-km-endurance ride in the mountains and an 80-km-endurance ride in a speed of 4,3, another 82-km-ride in the flat country with many roads, railways and motorway crossings and two more 82-km-endurance competitions in the mountains, with one 4th place and one 3rd place.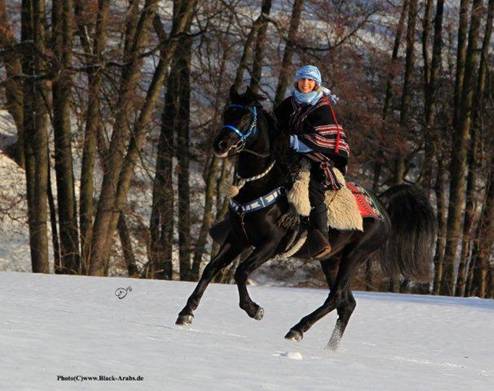 Al Kharim Al Azim´s elder fulsister, the black Al Alysha Al Azim, a good SE breeding mare, has already 2000 endurance performance kilometers, always well placed, and she was not only successfully in the breeding mares test, she has a very good Sportperformance examination as well. Al Alysha Al Azim has, like Al Kharim Al Azim, a very good character and she has been ridden in the endurance competitions mostly by a 12 year old girl and they won the Youth-Vize-Champion title of Hessen with 82 km and they got the first place on the Championship of Rhineland-Palatinate with 140 km in two days and they were among the choosen few, which had been invited to a cadre-training by the German Olympic Comitee, the DOKR. And they were honored with a certificate and Gold ribbon as the best arabian horse of the VZAP on a long international endurance ride.

Al Samantha Al Azim, another elder black SE fulsister of Al Kharim Al Azim, is also very successful in endurance competitions and has her mares breeding test and her Sport Performance Examination done very well and she is also a good breeding mare and loving mother. Her black SE son Al Mashhar Al Azim is in her footsteps and has already finished over 300 Endurance-Kilometers.

This is another proof for a superb SE arabian horse breeding and performance family, it is a proof that Al Kharim Al Azim´s pedigree stays for health, best character and outstanding performance abilities. Exotic beauty and shining blue black colour is just the "chocolate cream" above.

Al Kharim Al Azim´s fulsister Al Sherifa Al Azim, is also a a good riding horse, a good breeding mare and she got the second place on a wellknown arabian horse show as well.

Al Kharim Al Azim has a very good and proofed semen quality and nearly all mares where pregnant after the first Artifical Insemination with his fresh- or frozen semen.

Even Al Kharim Al Azim being still young, he has already exellent black offspring not only in Germany, but in Europe and in Arabic Countries as well. Many happy clients are confirming, that fillys and colts by Al Kharim Al Azim are having a beautyful, typey head with big dark eyes, a very good neck, body and topline and very good correct legs (even when the mare is not very correct) and he gives size. And also Kharim Al Azim gives his outstanding movements and his superb character on to his foals and mostly the offspring has better nervs and coolness than their mothers. Some of his beautyful black daughters are already good riding horses for happy young girls.

Al Kharim Al Azim is like all our horses SCID-clear, CA-clear (N/N) and LFS-clear.
Fresh, cooled and frozen semen in very good quality is available for worldwide shipping. Sometimes we have special offers. Please contact us! We are happy to hear from you as soon as possible!



Ansata el Salaam, Elite (by Ansata Ibn Sha)
Nuri Ibn Salaam
Black SE sire
Nurah (by Montasar, Elite)
Al Kharim Al Azim
Black SE Stallion
Kasr el Nil (by Tuhotmos)
Al Gaschya
Black SE dam
E.H. Ghandurah (by Gharib, Elite)
AL AZIM BLACK ARABIANS
Doris Melzer

D-64686 Lautertal - Germany

Phone: + 49 (0) 6254 - 7610

Fax: + 49 (0) 6254 - 3313

Website: www.Black-Arabs.de
| | |
| --- | --- |
| | |