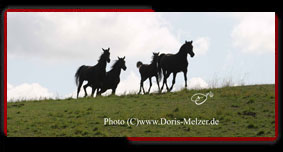 …is located in the heart of Europe, some 60 km south of the Euro-City Frankfurt am Main, in the beautyful nature preserve of Bergstraße-Odenwald. Al Azim Black Arabian Stud is nestled between mystical forests, where long time ago medieval knights of the "Nibelungen-Saga" lived, where magical castles raise upon the hills and hidden "seas" of rocks called "Felsenmeer" attracts visitors from far away.
In our small stud we are breeding with big passion. Since the middle 80s we have been breeding typey black Arabians for highest performance. Our "Black Arabs" stud has been based on Egyptian related lines, but has changed the breed in the last years to Straight Egyptian Arabians. They are Pyramid Society, Asil Club, Al Khamsa, VZAP and WAHO accepted. Our black Arabians are as well for show and for sport in nearly all riding disciplines. They are for highest performance especially in endurance riding.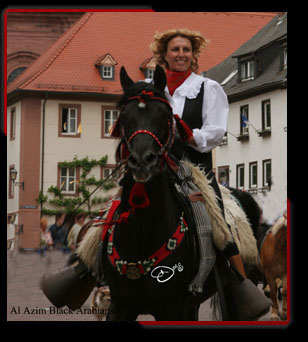 It began with our foundation stallion, the famous, black, state licenced, approved and performance-tested Al Azim (El Abd x Ramalla), who has passed his performance test at the racetrack , as well as successfully competing over 6000 kilometers in competitive endurance riding (this is in this combination a unique achievement worldwide!). And now Al Azim as a high aged horse is still the favorite riding horse of Doris Melzer and he is still successfully doing his job as a breeding stallion. Al Azim was honoured to be among the horses of the World Equestrian Games (WEG) in Aachen, where he was ridden by Doris Melzer.
Unforgettable is the typey, elegant, bay Suleah (Gharib x Suleika), the dam of both beautiful black mares Al Ameerah and Al Shazima. Also Saroukah (Farouk x Sabiyah), the dam of Al Asham will stay in our minds, as a lovely, black mare, one of the rare black Arabian mares to compete successfully in long endurance rides with some 1000 km (including a european championship).
We are breeding with some of the most well-known and most successful Straight Egyptian bloodlines like Alaa el Din, Alidaar, Ansata el Salaam, Ansata Ibn Halima, Classic Shadwan, El Abd, Gharib, Ibn Galal, Imperial Mashhar, Kasr el Nil, Madallan-Madheen, Moniet el Nefous, Montasar, Tuhotmos, Salaa el Din und Simeon Sadik.
Our breeding goal is a beautiful, typey and exotic Straight Egyptian Arabian in best quality, an Arabian for performance, with good character and this all in a blue black colour, an Arabian with exellent movements, with the ability and willigness for highest performance, a friend, which is for show and endurance as well, robust and healthy, a friend for a lifetime.
To reach our breeding goal no way is too long and no effort is too big. We made, for example, a trip from Germany to the southwest of England and took two of our horses with us, to take the chance to breed with Simeon Sadik, who is for sure the most beautiful and best black Straight Egyptian stallion in the world. As a result we got our extrem beautiful and exotic Straight Egyptian Simeon Sadik filly, blue black without markings, with outstanding movements and a lovely and charming character and she is homozygous black (EEaa)! Thank you, Shirley and Charley Watts, for this opportunity!
Arabians of our stud and offspring from our breeding stallions found their new home with many happy clients in many different countries, like for example in Egypt, Belgium, The Netherlands, Denmark, Spain, in France, in Austria, in Norway, Switzerland and in Hungaria, just to name a few and we were pleased to welcome visitors and clients not only from Europe, but as well from North- and Southamerica, from Africa and from different Arabic countries and from nearly all continents.
Doris Melzer was for many years a honorable judge in the German Endurance Association, pressphotographer and journalist and Arabian delegate. She got for the first time the order of the German Arabian Horse Breeding Association (VZAP) to work out the Arabian stallion performance test in endurance riding. She was also the founder of the BEDUIN-Araber-Bund. Meanwhile she is travelling in different countries as an international FEI-Judge and she is doing, beside her breeding of Arabians, further on a press-photographer and journalist especially for Nature-, Animal and Wildlife and Horse-Photography (please see some of her photos: www.horsephotos.de).
Our passion and favorite breeding goal is the Straight Egyptian Arabian, but we even love all horses. Like the EU-Charta of human rights, chapter III, we think these rights are not only for humans, but also for the horses, which should be treated equally and fair no matter which breed, colour, age, genter, behavior, no matter where they come from.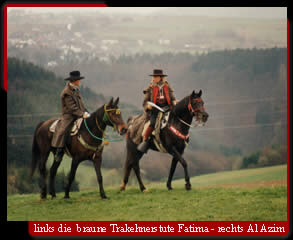 Our family with three active riders has done an outstanding performance in endurance riding with together about 20.000 kilometers in endurance competitions, among this Doris Melzer has done more than 12.000 successfully kilometers , with a fourth place in the well-known endurance race Wien-Budapest with 300 km in three days, and Martina did more than 7000 km and Gary more than 1000 km. These endurance competitions have been done in different countries in Europe, in every weather conditions, from springtime to winter, in many varios regions, from sandy soil to stony mountains, from Denmark to Spain.
From time to time we have outstanding offspring for sale, foals or breeding mares and stallions and sometimes ridden arabians as well. Please ask for details! Our stallions are available via fresh (chilled) and frozen semen. Breeding information on request.
Visitors are always welcome by appointment. We are happy to hear from you!