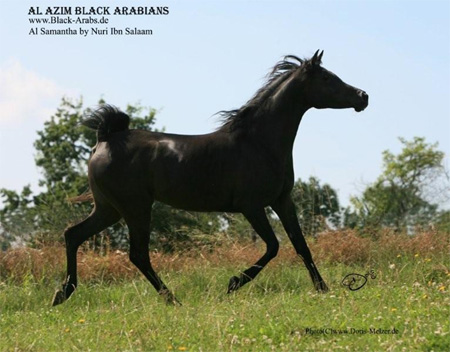 Al Samantha Al Azim, (Nuri Ibn Salaam x Al Gaschya), Straight Egyptian, Pyramid Society, Blue List, Al Khamsa, Asil. Typey, big, black mare, without white markings, just a little star. Beautyful head and elegant neck, good body and topline, correct legs, outstanding movements, grown naturally in the herd on the rolling hills of the Odenwald-pastures.

Al Samantha Al Azim descended from a black, beautyful and healthy performance-family with best characters and they are not only performing with many successes in endurance sports, they are very good horses for breeding, show or as faithful and lovely family horses as well. She is, like all our horses, SCID-clear and CA-clear N/N.

Al Samantha Al Azim´s pedigree is one of the finest. On her maternal side, with her granddams Nurah and Ghandurah, she traces back to very good performance lines and to the wellknown sires, the black Elitesire Gharib, born in El Zaraah (EGY) and for many years the main stallion in the German State Stud Marbach and to the legendary Tuhotmos. On the paternal side she traces back to the international attracted Elite stallion Ansata el Salaam, who has two times the Nazeer-Son Ansata Ibn Halima in his pedigree and the beautyful dam Ansata Samantha which traces back to Bukra and Obeya and to the line of El Dahma. In Al Samantha Al Azim´s outstanding Who-is-Who-Pedigree are many more wellknown ancestors like for example her grandfather the Elitestallion Montasar, a Messaoud-fulbrother and the son of the most successful breeding combination of Madkour by Morafic and the Hadban Enzahi-daughter Maymoonah and they have been the foundation of a whole succesful Arabian Horse Dynasty.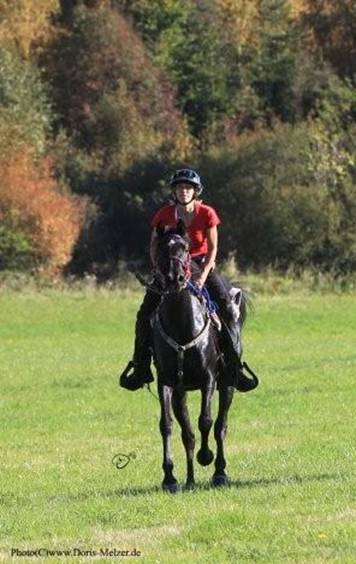 Al Samantha Al Azim heading fit and powerful on a long endurance ride towards the finish


Al Samantha Al Azim is, like her black sister Al Alysha Al Azim and like her black brother, the Gold Premium and performance tested stallion Al Kharim Al Azim, very successful in endurance competitions and she performanced also the mares breeding test and she succeeded the Sport Performance Examination as well, with about 800 endurance performance km´s always well placed.

Al Samantha Al Azim´s black son, Al Mashhar Al Azim, is in her footsteps and he performed already more than 300 Endurance-Km, always well placed.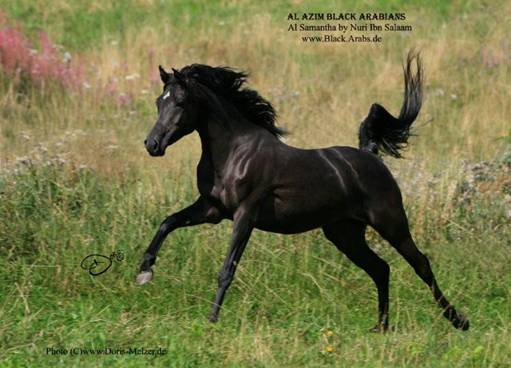 Al Samantha Al Azim, strong and athletic, full of power in her free canter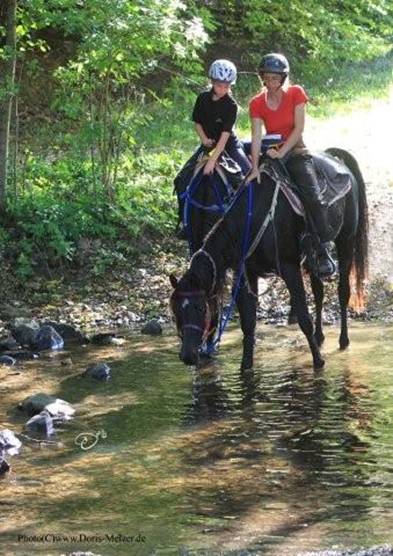 Al Samantha Al Azim enjoys a creek crossing during an 82 km endurance ride in Rhineland-Palatinate. In the background her sister Al Alysha Al Azim.
Al Samantha Al Azim is a dream arabian horse, beautyful, healthy and with good performance ability and with best character. She is a good ridinghorse and she loves it to go out for a long ride over the hills and through the valleys and she is strong to carry her rider the whole day long, fast, safe and easy, up hill and down dale.

Al Samantha Al Azim is also a good breeding mare and lovely caring mother. She has outstanding black offspring, like her extrem beautyful and typey black Straight Egyptian filly by Simeon Sadik, which has outstanding movements and the sweetest character and like her black Straight Egyptian son, who is like Al Samantha Al Azim already a successful endurance horse.
Ansata el Salaam, Elite (v. Ansata Ibn Sha)
Nuri Ibn Salaam
Sire, black
Nurah (v. Montasar, Elite)
Al Samantha
Black SE mare
Kasr el Nil (v. Tuhotmos)
Al Gaschya
Dam, black
E.H. Ghandurah (v. Gharib, Elite)
AL AZIM BLACK ARABIANS
Doris Melzer

D-64686 Lautertal - Germany

Phone: + 49 (0) 6254 - 7610

Fax: + 49 (0) 6254 - 3313

Website: www.Black-Arabs.de
| | |
| --- | --- |
| | |